Barcode printer for your individual business needs
Desktop printers are versatile and can be used in barcode applications for example. Their size means they can be used whatever the time and place. The desktop printer is ready when- and wherever a label is required.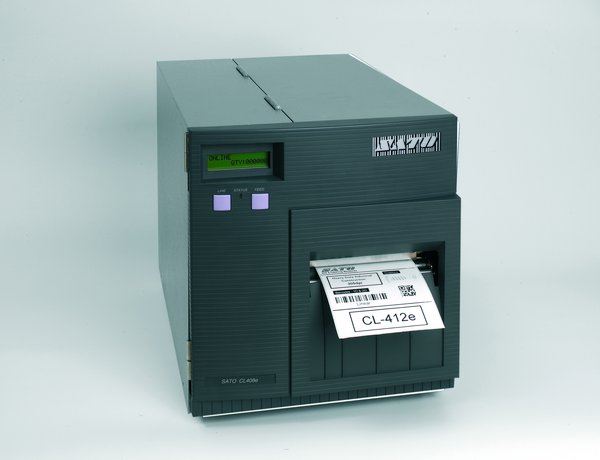 Our range of desktop printers offers you the best-possible solution in terms of resolution, label width, interface, label quantity and available options, such as blades or RFID capability. An interface handles printing of labels individually, e.g. with lot numbers from in-line production, an EAN code or barcode.
Weber Ireland offers you a range of barcode printers including solutions for labelling and printing control systems. Barcodes have been used successfully in many industries since the 1970s and can be printed on packaging or directly on the products themselves, simplifying ordering, storing and stocktaking for various businesses.
Representing data about an item or article, barcodes are printed using optical codes that are readable by a special bar code reader, scanner or interpretive software on computers, smartphones and other data processing devices. Weber Marking Systems provides barcode printer solutions for every requirement: bar code label printers for logistic units, quality assurance systems or for industrial processes. Additionally we supply different input units and software variants for barcode printing as well as technical support and services.
Barcode printers for labelling
Barcodes are used in many logistic processes such as ordering, delivery, transportation for tracking goods and controlling the commodity flow. An easy and simplified format is using labels that are stuck on the wrapper of goods or on other packaging units. Weber Marking Systems offers barcode label printers and dispensers for a fully automatic labelling process – practical for products, packaging, trays or pallets.
Our printers and dispensers of the LEGI-AIR series are designed for label formats in a range from 10 x 50 mm to 180 x 500 mm. They can work up to 240 labels per minute whilst working with domed surfaces. The systems have a modular design to fit into different industrial environments. Each LEGI-AIR barcode printer is ready to be modified for your own customised labelling system and will adjust to particular features, e.g. line speed, label size or content.
Services for inkjet barcode printer systems
In addition to barcode printers and label dispensers, Weber Ireland provides more than 1000 different label types as well as a wide variety of inks for diverse systems. You have the choice between quick-drying or water-soluble inks or pigmented properties.
As a central control system Markoprint is able to serve three different printhead technologies: small-format coding in high-resolution by Hewlett Packard, large-format coding by Trident and Lexmark industrial printheads. Weber is also an official partner of Zebra, a leading manufacturer of barcode printers. Please ask for our advice and service offers on Zebra printing.
Barcode printer with thermal transfer technology
Industrial barcode printers commonly apply thermal transfer technology. These printers use unique ribbons of color foil with wax, resin or a mixture of both. High temperature printheads transfer the colour to the label or have it fixed on different materials such as wood. Special foils even make it possible to print on metal, plastic and ceramic. Weber Marking Systems offers thermal transfer foils in 30 different qualities and optional widths and length for orders of 50 or more rolls. A barcode printer with thermo transfer technology can achieve the best and most durable printing qualities, perfectly made for barcodes and variable data.
Weber Marking System provides technical equipment for different barcode printer systems: coders for thermal or piezoelectric inkjets, and control systems by Markoprint with standard or windows-bases user interface. With so much diversity, we have everything you need for label design and barcode printing in high quality at Weber-marking.com.
The Geset 141 semi-automatic all-round labelling system is used for labelling small tins, bottles, jars etc. This solution was developed especially for companies requiring flexible labelling of small batches. Classical applications include the pharmaceutical and cosmetics industry and the food and beverage sector.

View Product

---

The Geset 117 labelling system is used to label square products on the top and bottom side automatically. Depending on the type and dimension of the product, different label sizes are used. The products are fed manually or by a conveying system provided by the customer at an infeed passage on the labelling system. Care should be taken on accurate alignment of the products. It is essential that the products are forwarded separately to the applicator with a gap between each other.

When the light barrier is reached, an application trigger is tripped. Both label applicators apply then in Wipe On procedure a label onto the product. The label on top side is pushed on the product by a brush or roller. The label on bottom side is pushed on the product by the self-weight of the product. After labelling the products move on and can be removed from conveyor by the customer.

View Product

---

The Geset 112 labelling system is used to label square products on the bottom side automatically. Depending on the type and dimension of the product, different label sizes are used. The products are fed manually or by a conveying system provided by the customer at an infeed passage on the labelling system. Care should be taken on accurate alignment of the products. It is essential that the products are forwarded separately to the applicator with a gap between each other.

When the light barrier is reached, an application trigger is tripped. The label applicator applies then in Wipe On procedure a label onto the product. The label on bottom side is pushed on the product by the self-weight of the product. After labelling the products move on and can be removed from conveyor by the customer.

View Product

---

The Geset 125 labelling system is used to label cylindrical products automatically. Depending on the type and dimension of the product, different label sizes are used. The products are fed manually or by a conveying system provided by the customer at an infeed passage of the labelling system. Care should be taken on accurate alignment of the products between the two freely mounted rollers of the roll conveyor. The side guide's position the products flush with the outside edge of the roll conveyor.

The roll conveyor feeds the products to the labeller. There the label is applied with the part running forward onto the product and it is pushed by rotation and the back pressure of the wrapping unit onto the product. The back pressure of the wrapping unit (the speed of the wrapping unit is twice as fast as the speed of the base conveyor) enables the product in rotation. The roll conveyor forwards the finished labelled products to the outfeed. Here the products are removed manually or by the customer's conveying system.

View Product

---