Apex2
The Apex 2 is designed especially for those transaction applications where small size, fast printing and dependability while staying in budget are vital. The 7-Arm, 32 bit processor keeps pace with the printers that cost almost twice as much without compromising on features and functions.   Delivering the key features and communication methods, the Apex 2 has the flexibility to meet the unique, industry-specific receipt printing and ease of use required to keep up with the mobile worker's long and demanding shift.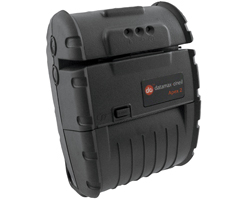 Lightweight and small – The Apex printers are light enough to wear all day, everyday and small enough that they don't hinder movement.
Fast – All features on the Apex printers are supported by a powerful Arm-7, 32-bit architecture RISC processor, making them as fast as printers costing almost twice as much.
User Controlled Memory – All resident fonts and firmware are integrated into flash memory and are directly under your control.
Easy to Use – Simplified LED lights indicate communication, charging and power status. Plus, easy drop-in paper loading and an external DC jack for
easy charging.
More for you Money – All Apex 2 printers ship with a battery, power supply, belt clip, and sample media. They are also all equipped with a wireless option and Serial RS232.
Compatibility – MS DOS and Windows compatible. Print utilities and drivers available for most systems.
Graphics – Supports the printing of graphics, 1D and 2D bar codes.
Endurance – High Capacity Li-Ion battery can last a full day of printing receipts on a single battery charge.
Charging Options – AC Adaptor for inprinter battery charging (comes with printer), 10.6-30V vehicle charger, 2 Bay battery charger.
Benefit:
Affordability and Performance – In today's tough economic times, affordability and quality are vital to business success. The Apex series has over-molded rubber bumpers for extra durability and is certified to IEC68 testing for operating temperature, storage temperature, humidity, shock and vibration. Most importantly, the Apex series comes with Datamax-O'Neil's legendary customer service and support.
ZEBRA ZT510 – NEXT-GENERATION PRINTING THAT IS BUDGET-FRIENDLY

Designed to strike the ideal balance between performance and value, the Zebra ZT510 includes the core features you need in an industrial printer at a cost-effective price point.

View Product

---

ZT400 printers feature USB, Serial, Ethernet and Bluetooth® connectivity along with expanded RFID capabilities. Plus, with Zebra's Link-OS® environment, an innovative operating system, your customer can easily integrate, manage and maintain these printers from anywhere in the world.

View Product

---

ZEBRA ZT600 SERIES – INDUSTRIAL BRAWN FOR EVERY CHALLENGE

Advancing the legacy of the industry-leading Xi Series, the Zebra ZT600 Series printers combine rugged durability and exceptional performance on a user-friendly, future-ready platform.

To keep your critical operations running smoothly, you need high-performance industrial printing systems that can stand the test of time, both physically and technologically. Zebra's ZT610 and ZT620 advance the legacy of their industry leading Xi Series predecessors, offering next-generation operational visibility, control and adaptability to meet your evolving needs—all with the rugged durability and 24/7 reliability you expect from Zebra.

View Product

---

Portable, Handy, Smart. The TH2 direct thermal 2″ standalone printer is truly revolutionary.

View Product

---