Trident
Trident is perfect for text, barcode and graphic marking on absorbent and smooth surfaces.It is easy to use, highly reliable and can reach printing speeds up to 60 meters per minute.
Click on the Direct Sales Button, and contact us today to order your Trident inkjet thermal inks.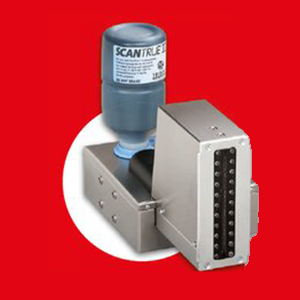 High reliability
Piezo-controlled graphic printing for industry-standard fonts, with almost unlimited number of rows.
high printing speeds in barcode quality
up to 60 m/minute at 192 dpi (maximum 200 m/minute)
good print image
based on perfected and proven Piezo technology
simple operation
through integrated maintenance module
unique flexibility
through the use of several Trident printheads
Maximum 50 mm to 800 mm printing heights possible, as well as freely configurable layouts
Multi-sided coding of packaging on two sides (top, side or at different production lines)
virtually any porous surfaces can be marked, depending on ink type
Topping up ink whilst in operation
up to 5 mm distance from printhead to product surface enables marking of cartons with surface tolerances
highly economical
Best price-performance ratio in terms of ratio: cost of ink to area printed
Adobe Reader is required to open and view PDF files. This can be downloaded free from adobe.com.
Available Documents
ZEBRA ZT510 – NEXT-GENERATION PRINTING THAT IS BUDGET-FRIENDLY

Designed to strike the ideal balance between performance and value, the Zebra ZT510 includes the core features you need in an industrial printer at a cost-effective price point.

View Product

---

ZT400 printers feature USB, Serial, Ethernet and Bluetooth® connectivity along with expanded RFID capabilities. Plus, with Zebra's Link-OS® environment, an innovative operating system, your customer can easily integrate, manage and maintain these printers from anywhere in the world.

View Product

---

ZEBRA ZT600 SERIES – INDUSTRIAL BRAWN FOR EVERY CHALLENGE

Advancing the legacy of the industry-leading Xi Series, the Zebra ZT600 Series printers combine rugged durability and exceptional performance on a user-friendly, future-ready platform.

To keep your critical operations running smoothly, you need high-performance industrial printing systems that can stand the test of time, both physically and technologically. Zebra's ZT610 and ZT620 advance the legacy of their industry leading Xi Series predecessors, offering next-generation operational visibility, control and adaptability to meet your evolving needs—all with the rugged durability and 24/7 reliability you expect from Zebra.

View Product

---

The Alpha HSM (High Speed Modular) is our new modular design that is based on various components that can be combined into the right system to meet your requirements.

View Product

---
[contact-form-7 404 "Not Found"]