Tamper Evident
Compact label dispenser for protection against manipulation of pharmaceutical packaging.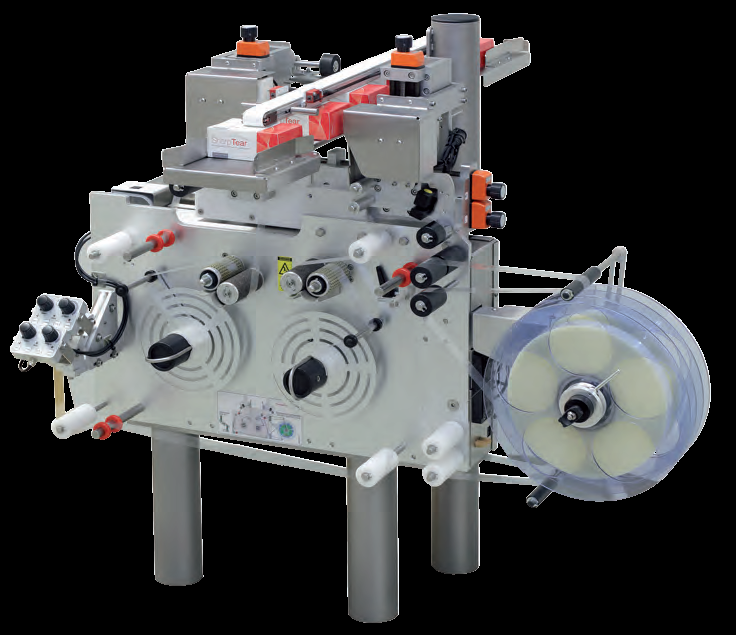 The EU Directive 2011/62/EU promulgated in 2011 introduced legal framework requirements for a pan-European safety system for prevention of counterfeit medicines. A central component, which is also addressed in the pharmaceutical law, is a clear and secure marking system for database-backed traceability and tamper-proof sealing of all packaging. Bluhm System can offer a compact, efficient and reliable solution to this requirement. A compact labelling unit is integrated into existing data matrix stations or weighing systems. Self-adhesive label seals are applied on both sides of the flap openings of pharmaceutical packing. Perforation on the labels will expose manipulation by destruction of the labels. Depending on the packaging plant, labels are either dispensed after weighing or after an inkjet printer – e.g. the Markoprint series – has printed a sequential datamatrix code onto each package.
Following this, code and seal checking by a camera system is recommended. The package will be rejected if the marking is wrong or if a seal is applied incorrectly. Only OK products will leave the plant.
Special Features
Sealing labelling for protection against counterfeits

Two-sided corner labelling of folding boxes
Highly compact design to allow integration into existing plant
Output clocking up to 300 items per minute
Stepper motor driven applicator
Short set-up times when switching to other product formats
Processing of transparent, perforated labels
Speed-independent labelling via Tamp-Wipe-On method
Dual label roll unwinding
The Geset 117 labelling system is used to label square products on the top and bottom side automatically. Depending on the type and dimension of the product, different label sizes are used. The products are fed manually or by a conveying system provided by the customer at an infeed passage on the labelling system. Care should be taken on accurate alignment of the products. It is essential that the products are forwarded separately to the applicator with a gap between each other.

When the light barrier is reached, an application trigger is tripped. Both label applicators apply then in Wipe On procedure a label onto the product. The label on top side is pushed on the product by a brush or roller. The label on bottom side is pushed on the product by the self-weight of the product. After labelling the products move on and can be removed from conveyor by the customer.

View Product

---

The Geset 112 labelling system is used to label square products on the bottom side automatically. Depending on the type and dimension of the product, different label sizes are used. The products are fed manually or by a conveying system provided by the customer at an infeed passage on the labelling system. Care should be taken on accurate alignment of the products. It is essential that the products are forwarded separately to the applicator with a gap between each other.

When the light barrier is reached, an application trigger is tripped. The label applicator applies then in Wipe On procedure a label onto the product. The label on bottom side is pushed on the product by the self-weight of the product. After labelling the products move on and can be removed from conveyor by the customer.

View Product

---

ZEBRA ZT510 – NEXT-GENERATION PRINTING THAT IS BUDGET-FRIENDLY

Designed to strike the ideal balance between performance and value, the Zebra ZT510 includes the core features you need in an industrial printer at a cost-effective price point.

View Product

---

The Geset 111 labelling system is used to label square products on the top side automatically. Depending on the type and dimension of the product, different label sizes are used. The products are fed manually or by a conveying system provided by the customer at an infeed passage on the labelling system. Care should be taken on accurate alignment of the products. It is essential that the products are forwarded separately to the applicator with a gap between each other.

When the barrier is reached, an application trigger is tripped. The label applicator applies a label on the product in Wipe On procedure. The label on the top side is pushed on to the product by a brush or roller. After labelling, the products move on and can be removed from the conveyor by the customer.

View Product

---
[contact-form-7 404 "Not Found"]