Tamper Evident Label Applicator
A core requirement of the European Directive 2011/62/EU that will come into force by 2016 is to equip the outer packaging of medicines with a tamper evident feature, thereby assuring the customer that he is the first person opening the package.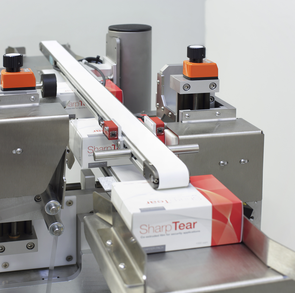 Demands from different markets worldwide are showing the need for combined and integrated solutions to cover latest developments in industrial production and supply chain.
Counterfeiting is the illegal production and sale of goods, including packaging, bearing without authorisation a trademark which is identical to a validly registered trademark or which cannot be distinguished from such a trademark.
Weber's unique scope of supply are turn-key solutions including, but not limited to:
Labelling Systems; in-line and off-line
Coding / Inkjet Systems
Barcode Reading / Verification
Database Software Labels (verification and security labels)
Full Service and installation supplies
A Track and Trace system is a mass serialisation solution for pharmaceutical, cosmetics and food companies that prints a unique identifying code onto each product. By this, each individual product could be tracked throughout the whole supply chain, from production to the end consumer, and helps manufacturers significantly reduce counterfeiting by ensuring products can be easily identified.
The Geset 141 semi-automatic all-round labelling system is used for labelling small tins, bottles, jars etc. This solution was developed especially for companies requiring flexible labelling of small batches. Classical applications include the pharmaceutical and cosmetics industry and the food and beverage sector.

View Product

---

The Geset 111 labelling system is used to label square products on the top side automatically. Depending on the type and dimension of the product, different label sizes are used. The products are fed manually or by a conveying system provided by the customer at an infeed passage on the labelling system. Care should be taken on accurate alignment of the products. It is essential that the products are forwarded separately to the applicator with a gap between each other.

When the barrier is reached, an application trigger is tripped. The label applicator applies a label on the product in Wipe On procedure. The label on the top side is pushed on to the product by a brush or roller. After labelling, the products move on and can be removed from the conveyor by the customer.

View Product

---

The Geset 125 labelling system is used to label cylindrical products automatically. Depending on the type and dimension of the product, different label sizes are used. The products are fed manually or by a conveying system provided by the customer at an infeed passage of the labelling system. Care should be taken on accurate alignment of the products between the two freely mounted rollers of the roll conveyor. The side guide's position the products flush with the outside edge of the roll conveyor.

The roll conveyor feeds the products to the labeller. There the label is applied with the part running forward onto the product and it is pushed by rotation and the back pressure of the wrapping unit onto the product. The back pressure of the wrapping unit (the speed of the wrapping unit is twice as fast as the speed of the base conveyor) enables the product in rotation. The roll conveyor forwards the finished labelled products to the outfeed. Here the products are removed manually or by the customer's conveying system.

View Product

---

The Geset 117 labelling system is used to label square products on the top and bottom side automatically. Depending on the type and dimension of the product, different label sizes are used. The products are fed manually or by a conveying system provided by the customer at an infeed passage on the labelling system. Care should be taken on accurate alignment of the products. It is essential that the products are forwarded separately to the applicator with a gap between each other.

When the light barrier is reached, an application trigger is tripped. Both label applicators apply then in Wipe On procedure a label onto the product. The label on top side is pushed on the product by a brush or roller. The label on bottom side is pushed on the product by the self-weight of the product. After labelling the products move on and can be removed from conveyor by the customer.

View Product

---
[contact-form-7 404 "Not Found"]