Model 5300 Series Tamp-Blow Pallet Label Printer-Applicator
Weber pallet load label printer-applicators combine high print quality with simultaneous single pallet label application for the identification of unitised products prior to shipping or storage.
Choose from a wide range of 203, 300 and 600 dpi print engines
Capable of handling print speeds up to 16 ips
Numerous I/O's ease interfacing with external devices
You can monitor its operation via a web browser
Available with optional RFID capability
A great way to add a labeller after your palletiser system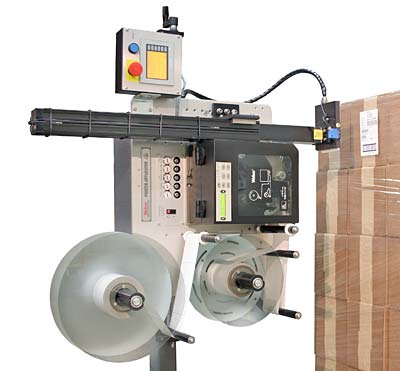 Model 5300 Series Tamp-Blow Pallet Label Printer-Applicator

Specially engineered for the labelling of pallet loads, each system integrates a thermal/thermal-transfer label printer and a patented tamp-blow applicator. The print-apply unit is mounted onto a heavy-duty stand which is adjustable to accommodate pallet loads of various heights. You can add this labeller to the end of your palletiser system's conveyor.
As a pressure-sensitive label is printed, it is automatically peeled from its liner and retained by vacuum on the applicator pad. When a pallet load is delivered to the system, a product sensor initiates the extension of the tamp arm and the label is blown onto the load from approximately 0.25″.
These systems are available with high-quality print engines manufactured by Datamax, Sato and Zebra. Pallet label sizes range from a minimum of 0.75″ wide and 0.5″ long to a maximum of 7.0″ wide and 8.0″ long. The printers are capable of producing labels with variable-sized text, high-density bar codes and graphic images at print speeds up to 16 ips.
Special Features & Options
The Model 5300 pallet load system includes a number of noteworthy features that add to the operational versatility of this printer-applicator:
• Browser-based monitoring: The status of all operational functions and configurations can be monitored by logging on to a web page that is unique to each Model 5300 unit.
• Numerous I/O's: The system can be interfaced with many types of external devices.
• One-to-one media consumption: Special label unwind and rewind dimensions are matched to the system's ribbon supply to ensure they are consumed at the same rate, reducing downtime and eliminating partial changeovers.
• Print job storage: Multiple label printing formats can be stored in the system's memory, making it easier for an operator to select a job directly from the applicator instead of downloading a computer file.
This system boasts numerous additional features including a microprocessor controller with downloadable firewall capability, various inputs/outputs plus durable construction that will withstand harsh industrial environments.
Other options include a 15-foot umbilical connection that enables the remote location of the unit's controller, an adjustable stand for optimum system orientation; label-on-pad sensor for added functionality plus beacon light alerts to signal the status of label and ribbon supplies.
Adobe Reader is required to open and view PDF files. This can be downloaded free from adobe.com.
Available Documents
5300
The Geset 125 labelling system is used to label cylindrical products automatically. Depending on the type and dimension of the product, different label sizes are used. The products are fed manually or by a conveying system provided by the customer at an infeed passage of the labelling system. Care should be taken on accurate alignment of the products between the two freely mounted rollers of the roll conveyor. The side guide's position the products flush with the outside edge of the roll conveyor.

The roll conveyor feeds the products to the labeller. There the label is applied with the part running forward onto the product and it is pushed by rotation and the back pressure of the wrapping unit onto the product. The back pressure of the wrapping unit (the speed of the wrapping unit is twice as fast as the speed of the base conveyor) enables the product in rotation. The roll conveyor forwards the finished labelled products to the outfeed. Here the products are removed manually or by the customer's conveying system.

View Product

---

The Geset 111 labelling system is used to label square products on the top side automatically. Depending on the type and dimension of the product, different label sizes are used. The products are fed manually or by a conveying system provided by the customer at an infeed passage on the labelling system. Care should be taken on accurate alignment of the products. It is essential that the products are forwarded separately to the applicator with a gap between each other.

When the barrier is reached, an application trigger is tripped. The label applicator applies a label on the product in Wipe On procedure. The label on the top side is pushed on to the product by a brush or roller. After labelling, the products move on and can be removed from the conveyor by the customer.

View Product

---

The Geset 112 labelling system is used to label square products on the bottom side automatically. Depending on the type and dimension of the product, different label sizes are used. The products are fed manually or by a conveying system provided by the customer at an infeed passage on the labelling system. Care should be taken on accurate alignment of the products. It is essential that the products are forwarded separately to the applicator with a gap between each other.

When the light barrier is reached, an application trigger is tripped. The label applicator applies then in Wipe On procedure a label onto the product. The label on bottom side is pushed on the product by the self-weight of the product. After labelling the products move on and can be removed from conveyor by the customer.

View Product

---

The Geset 141 semi-automatic all-round labelling system is used for labelling small tins, bottles, jars etc. This solution was developed especially for companies requiring flexible labelling of small batches. Classical applications include the pharmaceutical and cosmetics industry and the food and beverage sector.

View Product

---
[contact-form-7 404 "Not Found"]