microFlash 4t/4te
With uncompromising standards, the 4t/4te is engineered throughout to withstand even the most punishing portable applications, including multiple 6 ft drops to concrete. The 4t/4te prints outstanding quality 4-inch receipts, proof of deliveries, labels, and invoices. The 4t comes with Serial and IrDA communication. The 4te is every bit as rugged as the 4t but it offers enhanced processing speeds (10 times faster), greater memory capacity, USB connectivity power status lights, external charging, and optional Bluetooth and 802.11b/g wireless connectivity.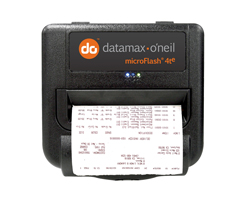 The 4t/4te has many outstanding features that offer equally outstanding benefits. Below is a brief list of the features and benefits you will experience using the 4t/4teprinter.
Ultra Rugged – Passed 6 ft. (1.8 m) drop test

Exclusive Features – Advanced 32-bit architecture RISC processor for light-speed processing, LED lights to indicate Bluetooth, charging and power status, and an external DC jack for easy charging

Many Options to fit your specific needs – Optional Bluetooth or 802.11b/g connectivity, magnetic stripe card reader, and linerless printing capability

Handheld Compatibility – Supports a wide variety of hand-held computers from leading manufacturers

Print Quality – 203 dpi resolution

Fonts – Stores fonts, graphics and operating system in Flash memory; supports international character sets and any Bitstream® bitmap font

Graphics – Supports the printing of graphics, 1D bar codes, 2D symbologies, and signature capture

Endurance – Intelligent power management and programmable sleep mode for extended battery life

Battery – Unlike competitors' printers, the battery is included in the purchase price. And when it's time to replace the battery, the microFlash printers use economical replacement batteries

Charging Options – External charge contacts, AC adapter, or 12V vehicle cigarette lighter adapter

Warranty – Comes with the industry's only two-year standard warranty – twice that of the competition!
Benefits:
Increased productivity – Using a reliable printer means your operation will run smoothly without downtime or handwritten receipts. The microFlash family is the most rugged and reliable printer series available with a proven design to keep mobile workers productive and your customers satisfied.

Lower total cost of ownership (TCO) – Save money on expensive extended warranties and repairs. Everyone agrees that reliability is important to the success of an application, but Datamax-O'Neil is the only company to stand behind its mobile thermal printers with a 2-year warranty.
ZEBRA ZT510 – NEXT-GENERATION PRINTING THAT IS BUDGET-FRIENDLY

Designed to strike the ideal balance between performance and value, the Zebra ZT510 includes the core features you need in an industrial printer at a cost-effective price point.

View Product

---

ZT400 printers feature USB, Serial, Ethernet and Bluetooth® connectivity along with expanded RFID capabilities. Plus, with Zebra's Link-OS® environment, an innovative operating system, your customer can easily integrate, manage and maintain these printers from anywhere in the world.

View Product

---

ZEBRA ZT600 SERIES – INDUSTRIAL BRAWN FOR EVERY CHALLENGE

Advancing the legacy of the industry-leading Xi Series, the Zebra ZT600 Series printers combine rugged durability and exceptional performance on a user-friendly, future-ready platform.

To keep your critical operations running smoothly, you need high-performance industrial printing systems that can stand the test of time, both physically and technologically. Zebra's ZT610 and ZT620 advance the legacy of their industry leading Xi Series predecessors, offering next-generation operational visibility, control and adaptability to meet your evolving needs—all with the rugged durability and 24/7 reliability you expect from Zebra.

View Product

---

Portable, Handy, Smart. The TH2 direct thermal 2″ standalone printer is truly revolutionary.

View Product

---
[contact-form-7 404 "Not Found"]