Legi-air 6000
High performance label printing dispenser for labelling shipping cartons.
 The modular concept of the Legi-air label Print apply system allows the unit to be customised to suit existing production lines.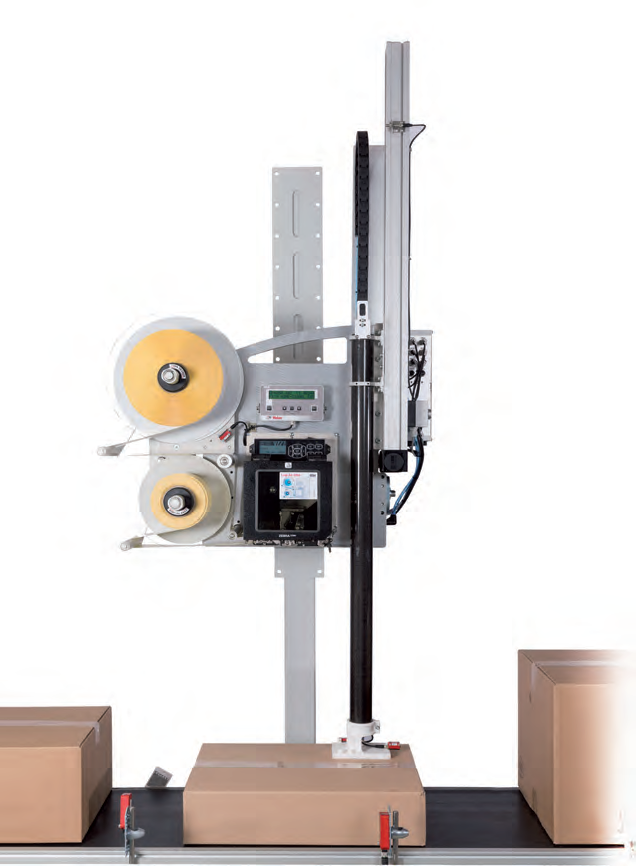 Legi-air 6000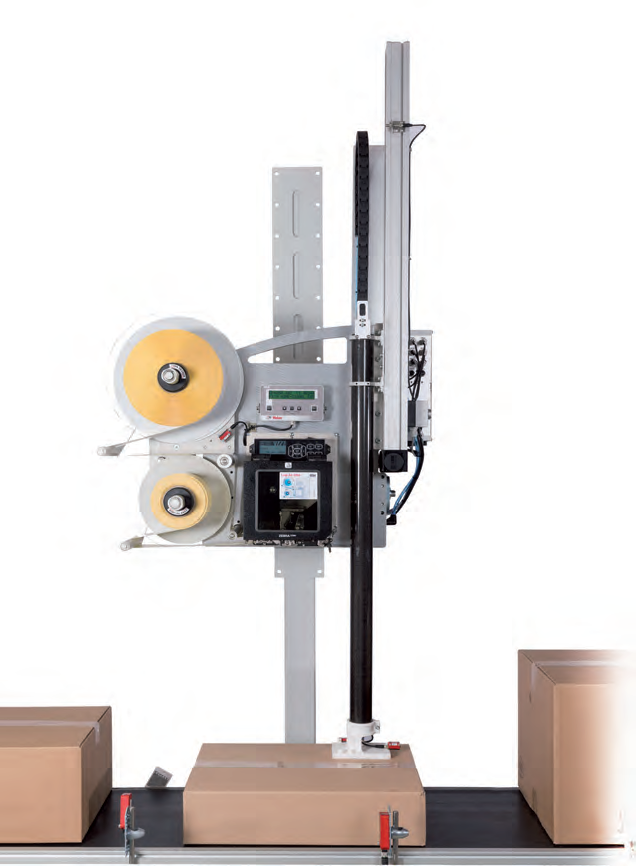 Product traceability, quality assurance, tracking and tracing in logistics or individual identification of products for just-in- time production – these are just some of the current industry demands that are catered for with this system. Interchangeable dispensing heads allow the use of different label sizes. Print engines by leading global manufacturers such as Zebra, Datamax, CaB etc allows an optimal match to the application and its specific printing requirements. Reaching 400 products per hour, the Legi-air 6000 high performance printing and application system will label passing cartons of varying height quickly and efficiently.
Differences in product height of up to 500 mm can be achieved thanks to the high performance stroke unit. these peak performances are achieved using a servo motor driven dispensing applicator and carbon fibre construction.
Once the sensor has initially determined the height of the approaching product for labelling, the applicator will move to the correct position at high speed. this reduces the travelling distance for labelling and the Legi-air 6000 will simultaneously label more accurately and up to 50 percent faster than a printing dispenser with a pneumatically driven cylinder.
The new redesigned microprocessor controller is optimal in terms of both cost and space. This makes the system highly compact and facilitates easy integration into existing operating environments. The Legi-air 6000 will handle large label rolls with an ergonomically adjustable reel holder taking maximum roll size of up to 350 mm diameter. This results in higher efficiency production runs and less downtime for Label Reel Change.
The intelligent construction allows easy access to system components for servicing and or maintenance, enabling convenient changing of labels and foils as well as particularly easy cleaning of the print module's thermal print head, as needed.
ZEBRA ZT510 – NEXT-GENERATION PRINTING THAT IS BUDGET-FRIENDLY

Designed to strike the ideal balance between performance and value, the Zebra ZT510 includes the core features you need in an industrial printer at a cost-effective price point.

View Product

---

ZT400 printers feature USB, Serial, Ethernet and Bluetooth® connectivity along with expanded RFID capabilities. Plus, with Zebra's Link-OS® environment, an innovative operating system, your customer can easily integrate, manage and maintain these printers from anywhere in the world.

View Product

---

ZEBRA ZT600 SERIES – INDUSTRIAL BRAWN FOR EVERY CHALLENGE

Advancing the legacy of the industry-leading Xi Series, the Zebra ZT600 Series printers combine rugged durability and exceptional performance on a user-friendly, future-ready platform.

To keep your critical operations running smoothly, you need high-performance industrial printing systems that can stand the test of time, both physically and technologically. Zebra's ZT610 and ZT620 advance the legacy of their industry leading Xi Series predecessors, offering next-generation operational visibility, control and adaptability to meet your evolving needs—all with the rugged durability and 24/7 reliability you expect from Zebra.

View Product

---

The Alpha HSM (High Speed Modular) is our new modular design that is based on various components that can be combined into the right system to meet your requirements.

View Product

---
[contact-form-7 404 "Not Found"]