Label Printers
Barcode and label printers for your individual business needs
Label printers and printing modules are used in industry, manufacturing and logistics. Weber can offer you the ideal label and barcode printers to print your own professional labels in-house. Suitable for occasional printing in the office and for ongoing production requirements. We are an official accredited industry and service partner worldwide for renowned manufacturers of label printers such as Zebra, Sato, Epson and Datamax and are at your disposal for consultation, installation, training and support.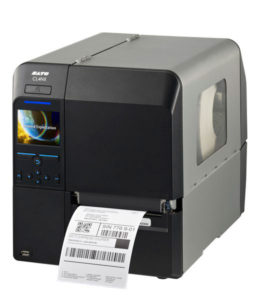 Exceptional print quality – monochrome or colour
High performance whatever the print volumes
Robust under the toughest of conditions
Wi-Fi, remote and RFID-capable equipment
ERP integration for SAP, Oracle, Dynamics and others
Our Products
For every product and purpose, there is a label to match. Whether you need a label with an elaborate design, or space for further information on a primary label, there are different ways to customise the appearance of your label. If the latest technology in marking and labelling is an important necessity, many of our labels are RFID-capable. With such a variety of formats available to you, Weber Packaging Solutions offers labels and printers for virtually every application. Our range of desktop printers offers you the best-possible solution in terms of resolution, label width, interface, label quantity and available options, such as cutters, rewinders, applicators, software or RFID capability. The software interface can handle the printing of labels individually, e.g. with lot numbers from in-line production, an EAN code or barcode. Their choice of printer size means they can be used whatever the time and place. The desktop printer is ready when- and wherever a label is required.
Due to the variety of applications for label printing , Weber Packaging Solutions understands that every business has its own unique requirements. Where retailers may plain labels with barcodes, authorities and pharmaceutical companies demand forgery-proof labels. Some labels have to be water resistant; others must be resistant against wear and tear. With Weber Packaging Solutions you will find the best solution for your business.
Barcode printers
Weber Packaging Solutions offers you a range of barcode printers including solutions for labelling and inkjet printing control systems. Barcodes have been used successfully in many industries since the 1970's and can be printed on packaging or directly on the products themselves, simplifying ordering, storing and stocktaking for various businesses.
Representing data about an item or article, barcodes are printed optical codes that are readable by a special bar code scanner or interpretive software on computers, smartphones and other data processing devices. Weber Packaging Solutions provides barcode printer solutions for every requirement such as bar code label printers for logistic units, quality assurance systems or for industrial processes. Additionally we supply software solutions for barcode printing as well as technical support and services.
Industrial printers and applicators – sturdy with metallic housing
Weber's industrial label printers are the perfect solution for automatic printing and labelling. From small systems with a broad range of applications to high-end demands with specialised needs, every industrial label printer is durable and can operate to maximum efficiency.
All applications, despite complexity can be accomplished accurately and swiftly. State-of-the-art technology will streamline your operations and implement every labelling task. Once set, our industrial label printers and applicators can print and position the labels automatically on every product, tray, package or pallet that is used in your area of business.
Due to modular construction, Weber's industrial label printer applicators can be set up for more than 1,500 different areas of operation. Depending on the label size of the rewinder or unwinder, Weber Marking can provide up to 600 linear metres per roll. Printing is available either as a direct thermal or a thermal transfer method. The standard resolution is 203 dpi (8 dots per mm), but can be increased up to 300 dpi (12 dots per mm) or 600 dpi (24 dots per mm).
Label printer accessories