Zebra ZD410
The ZD410 is the smallest printer in its class, fitting easily in the most space-constrained desktop or shelf. Available with either 203 dpi or 300 dpi print resolution, the ZD410 is ideal for printing labels with a shelf life of less than one year. The ZD410 is currently available for purchase only in North America and the European Union countries. It will be launched in other countries throughout 2016.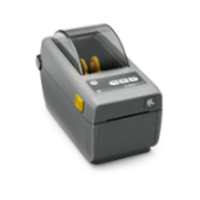 Easy-to-use, reliable printer for space-constrained areas
Ideal for applications requiring an easy-to-use, reliable printer for space-constrained areas, the ZD410 and TLP2824 Plus can be used in a variety of printing applications. One of the smallest in its class, Zebra's 2″ print width printers tuck into the tightest work spaces and print labels, receipts or wristbands with best-in-class print speeds.
Unsurpassed flexibility
When it comes to flexibility, the ZD410 shines. You get virtually every modern connectivity option, from USB, auto-sensing serial and 10/100 Ethernet to the latest wireless options, including 802.11ac Wi-Fi and Bluetooth 4.1. Plus, with the ability to add serial or Ethernet connectivity as well as a peeler and cutter right on site, you can easily upgrade the printer at any time. The TLP2824 Plus comes with standard USB and Serial or Parallel connectivity.
Even easier to use
A new and improved user interface makes the ZD410 easier than ever to use. There are more status icons that make it easy to spot and resolve issues. You can tap an NCF-enabled mobile device on your ZD410 to instantly access Zebra's extensive knowledge base of how-to videos and more. The result? You always have access to the information you need to get your printer back on line quickly, protecting uptime and worker productivity.
Robust 32-bit RISC processor
A robust 32-bit RISC processor increases throughput and productivity with faster formatting and first label out.
PRINT WIDTH
2.2″/56 mmPRINT RESOLUTION
203 dpi/8 dots per mm
300 dpi/12 dots per mmMAXIMUM PRINT SPEED
6″/152 mm per second @ 203 dpi/8 dots per mm
4″/102 mm per second @ 300 dpi/12 dots per mm
MEDIA SENSORS
Multi-position transmissive and full width reflective sensorsCOMMUNICATION METHODS
USB 2.0, Bluetooth Low Energy, USB Host RS-232 Serial (option),10/100 Ethernet (option) Wireless: 802.11ac with Bluetooth 4.1 (option)
Adobe Reader is required to open and view PDF files. This can be downloaded free from adobe.com.
Available Documents
You must be logged in to access these documents.
Register for an account
.
The Geset 111 labelling system is used to label square products on the top side automatically. Depending on the type and dimension of the product, different label sizes are used. The products are fed manually or by a conveying system provided by the customer at an infeed passage on the labelling system. Care should be taken on accurate alignment of the products. It is essential that the products are forwarded separately to the applicator with a gap between each other.

When the barrier is reached, an application trigger is tripped. The label applicator applies a label on the product in Wipe On procedure. The label on the top side is pushed on to the product by a brush or roller. After labelling, the products move on and can be removed from the conveyor by the customer.

View Product

---

The thermal inkjet printer IP-JET HP MK3 has been specifically designed for usage in dusty or damp situations. It is especially ideal for the food sector, as well as the plastics, pharmaceutical, and chemical industries, due to its IP65 protection level.

The IP-JET HP is a small inkjet printer with a printhead and control unit housed in one unit. Water and dust are kept out of the cartridge by sealing it and pressurizing it. The power supply features a waterproof connector, and the external connections' connectors are secured with an IP67 rating. The printhead does not need to be covered or removed for wet cleaning, unlike many other printers on the market.

View Product

---

ULTRAPLATE is the standard resin ribbon from Weber. It is dedicated to
applications requiring a perfect printing quality and excellent mechanical
resistances. Its high versatility (it also prints on coated papers) and its
performances (sharpness, printing speed) have resulted in making
ULTRAPLATE a market reference.

View Product

---

The innovative Integra Ultimate thermal inkjet printer not only provides IP65 protection against dust and moisture, but it also closes and cleans the nozzle plate at each pause. This system ensures that the printing is always clean, with faultless results even after extended breaks. As a result, the ink cartridges' open times are multiplied many times. Two HP Class thermal inkjet ink cartridges can be used with the print head. As a result, the system produces beautiful prints with a maximum height of 25 mm.

View Product

---