Zebra DS4800 Series Scanner
In today's highly competitive retail market, improving your customers' experience is a must. To differentiate yourself and keep shoppers
coming back, you not only need fast, smooth checkouts, you need an aesthetically pleasing store environment that reinforces your brand.
Yet, the POS, the most common point of interaction between customers and sales associates, is often overlooked. Current scanner technology does not enhance the checkout experience or integrate your brand into the process. But Zebra's DS4800 Series changes that.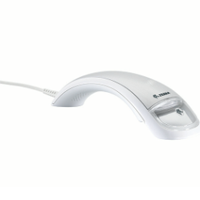 The DS4800 Series bar code scanner offers style without compromise by marrying impressive design and innovative technologies with enterprise reliability and functionality. The sophisticated arc design brings a new level of style to your POS and compliments your environment. Cashiers will experience a new level of performance that translates into the smooth successful scanning required to rapidly complete purchase transactions — including the first time every time capture of 1D and 2D bar codes, whether they are high density, poorly printed, damaged, under shrink-wrap or displayed on the screen of a shopper's mobile phone.
The DS4800 can also capture documents, such as an ID card or a check as well as the PDF417 bar codes on driver's licenses to enable fast and easy completion of loyalty and credit card applications. A capacitive trigger allows cashiers to simply tap, press or swipe to scan.
Flexible decode feedback includes vibrations, visual feedback and a library of melodic tones. Our unique proprietary illumination system creates an extra sharp aiming dot that is easy to see over the entire working range, making it easy to capture any bar code the first time — whether it is near, far or one of many on a pick list. And since you can customize the DS4800 Series with the logo and design of your choice, it will integrate seamlessly into your environment and make our innovations part of your brand. The DS4800 Series — elite performance, elegantly crafted.
Adobe Reader is required to open and view PDF files. This can be downloaded free from adobe.com.
Available Documents
DS4800 Series
The TC51/TC56 touch computer is sleek and beautiful—yet smart, rugged and hardworking. Designed for the new business world, users get a rugged industrial design that looks and feels like the most popular pocketable consumer-style smartphones to meet worker expectations, along with the enterprise-class features, power, security and manageability a business requires.

View Product

---

ACHIEVE CUSTOMER SERVICE EXCELLENCE AND ASSOCIATE PRODUCTIVITY

Add value to the customer experience with targeted promotions and offers based on buying preferences. Empower store associates to more efficiently manage inventory and pricing at the shelf edge. Reduce your overhead costs and improve customer loyalty with the MC Series multi-function retail mobile computer.

View Product

---

Unstoppable Performance for 1D/2D Direct Part Marks (DPM) and Bar Codes

As a member of the Zebra 3600 Ultra-Rugged Series of scanners, the practically indestructible 1D/2D DS3608-DP corded and DS3678-DP cordless scanner brings the dependable lightning-fast capture of virtually every direct part mark to aerospace, automotive and other manufacturing plants where end-to-end traceability of every product component is required.

View Product

---

A revolutionary design delivers revolutionary productivity gains…one more hour, per worker, per shift.

Businesses looking for the next innovation in warehouse mobility to boost warehouse productivity, have just found it: the rugged TC8000. What makes the TC8000 so special? Everything

View Product

---