X4Jet Plus
With the new high performance Markoprint X4JET print controller, different inkjet printing technologies can be controlled either simultaneously or alternately. The intuitive input unit of the new high performance Markoprint X4JET plus print controller is a boost to operator convenience. All system parameters can be entered easily and quickly, to be stored and called up later.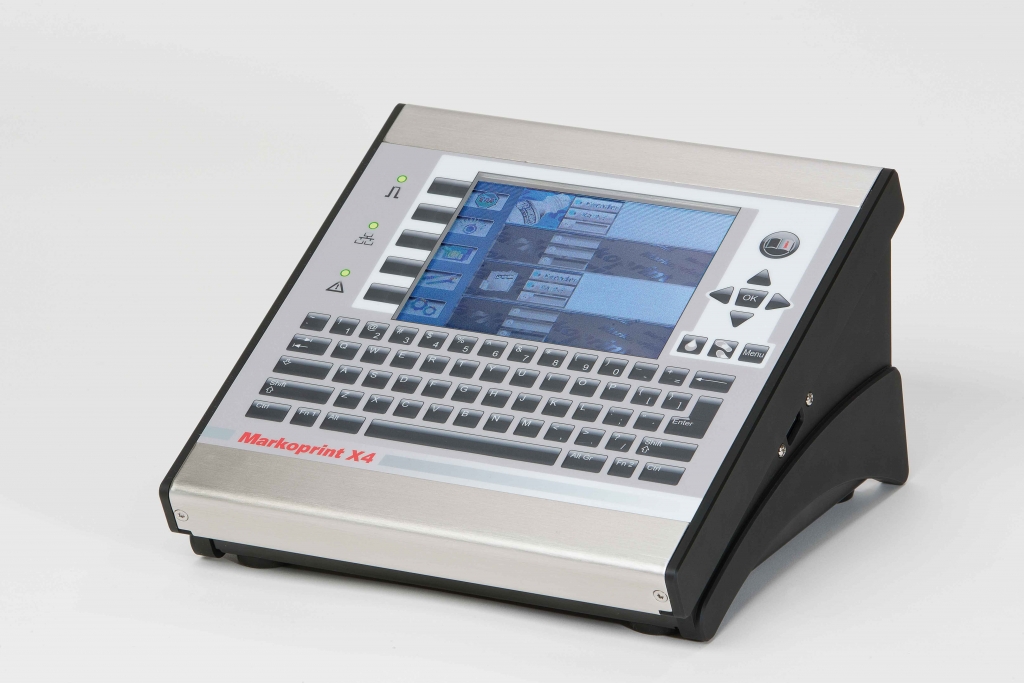 The Markoprint X4JET Plus targets not only the food & beverage industry, but also the pharmaceutical industry and system integrators to provide reliable, fast and flexible printing where its needed. Using MarkoPrint's iDesign software, print layouts can be quickly and intuitively designed by anyone. With simultaneous 1:1 data transmission, high industry demands are satisfied. The number of conventional interfaces guarantees fast and smooth communication with higher level data systems. No batch processing or downloads necessary.
Datamatrix, MHD and batch marking can be applied to primary packaging and large barcodes, company logos and certification marks may be applied to secondary packaging. Because the Markoprint X4JET manages up to 3 000 serializations per minute, all this can be done fast. The compact control unit can also be conveniently integrated into existing conveying systems or into control cabinets.
Intelligent high-speed control system for demanding marking applications Three printing technologies can be controlled simultaneously.
Touch surface to operate the system easily
Parallel operation using a standard keypad and function keys
Networking possibilities using TCP/IP, USB and EIA232
Possible connection of HP, LX und MX print heads(individually or in combination)
Print available on two production lines
Simultaneous marking of primary and secondary packaging using a controller
Connection of up to 4 print heads
Stand-alone system with 2.7" OLE display and iLogik input
Animated graphics for simple use
ZEBRA ZT510 – NEXT-GENERATION PRINTING THAT IS BUDGET-FRIENDLY

Designed to strike the ideal balance between performance and value, the Zebra ZT510 includes the core features you need in an industrial printer at a cost-effective price point.

View Product

---

Inkjet nozzles can clog and dry up in a dusty printing environment, which is typical in wood-processing enterprises and other sectors. This results in poorly printed images. Our Markoprint Shutter Printhead HP prevents dust from entering the ink cartridge or gathering on the nozzles. During a production halt, the printhead automatically retracts the cartridge and shuts the open nozzle plate. After being paused for even several days, it is instantly ready to print again.

View Product

---

The Geset 141 semi-automatic all-round labelling system is used for labelling small tins, bottles, jars etc. This solution was developed especially for companies requiring flexible labelling of small batches. Classical applications include the pharmaceutical and cosmetics industry and the food and beverage sector.

View Product

---

To enable continuous marking in ongoing production, our Markoprint NonStopPrinting printhead holds two alternately printing cartridges. Because the other ink cartridge is printing on the same position, each ink cartridge can be changed, cleaned, or serviced without pausing the machine.

An intelligent automatism prevents both cartridges from going empty at the same time. The first cartridge will always print two consecutive print jobs, taking turns with the second cartridge, which will only print one. This sophisticated automatism avoids both cartridges from running out at the same time. This will keep the ink from drying out in both cartridges. When the cartridge with the larger print volumes is empty, a warning will show, and the other cartridge will continue printing until it is replaced. The new cartridge will print the lower quantities to allow for you to replace the "older" cartridge. A sophisticated workflow that will boost your efficiency and productivity.

View Product

---