Weber Alpha Compact Applicator
The new Alpha Compact label dispenser now sports a new design with increased performance and higher application rates and is even simpler to operate than its tested and proven predecessors. As always, this system applies quickly and accurately pre-printed labels onto products and packaging in conjunction with various applicator units. The newly integrated controller now renders the…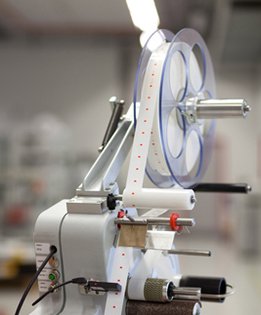 The new Alpha Compact label dispenser now sports a new design with increased performance and higher application rates and is even
simpler to operate than its tested and proven predecessors. As always, this system applies quickly and accurately pre-printed labels onto products and packaging in conjunction with various applicator units.
The newly integrated controller now renders the Alpha Compact particularly space-saving and optimal to operate. Using a conventional PC with USB interface, different labeling parameters as well as functions like start and stop, single label feed, speed control and sensor calibration can now be entered and stored in the Alpha Compact.
Data and information backup and convenient transfer of dispenser parameters to other Alpha Compact systems is truly simple now. The changeover of labeling orders in conjunction with system controller can now become automatic.
Unsupported connections to existing system controllers are also possible and provided. Stored parameters and jobs can be called up from extensive internal data storage and can also be edited and used for different labeling jobs. A second miniature controller enables 1:1 labeling and simulates the well-known Alpha series (2 rotary and 4 push buttons) input unit, proven a thousand times over.
The Geset 117 labelling system is used to label square products on the top and bottom side automatically. Depending on the type and dimension of the product, different label sizes are used. The products are fed manually or by a conveying system provided by the customer at an infeed passage on the labelling system. Care should be taken on accurate alignment of the products. It is essential that the products are forwarded separately to the applicator with a gap between each other.

When the light barrier is reached, an application trigger is tripped. Both label applicators apply then in Wipe On procedure a label onto the product. The label on top side is pushed on the product by a brush or roller. The label on bottom side is pushed on the product by the self-weight of the product. After labelling the products move on and can be removed from conveyor by the customer.

View Product

---

To enable continuous marking in ongoing production, our Markoprint NonStopPrinting printhead holds two alternately printing cartridges. Because the other ink cartridge is printing on the same position, each ink cartridge can be changed, cleaned, or serviced without pausing the machine.

An intelligent automatism prevents both cartridges from going empty at the same time. The first cartridge will always print two consecutive print jobs, taking turns with the second cartridge, which will only print one. This sophisticated automatism avoids both cartridges from running out at the same time. This will keep the ink from drying out in both cartridges. When the cartridge with the larger print volumes is empty, a warning will show, and the other cartridge will continue printing until it is replaced. The new cartridge will print the lower quantities to allow for you to replace the "older" cartridge. A sophisticated workflow that will boost your efficiency and productivity.

View Product

---

The innovative Integra Ultimate thermal inkjet printer not only provides IP65 protection against dust and moisture, but it also closes and cleans the nozzle plate at each pause. This system ensures that the printing is always clean, with faultless results even after extended breaks. As a result, the ink cartridges' open times are multiplied many times. Two HP Class thermal inkjet ink cartridges can be used with the print head. As a result, the system produces beautiful prints with a maximum height of 25 mm.

View Product

---

The Markoprint Integra PP108 is the first inkjet printer with SEIKO printing technology and a circulating ink system. It features a POZIFLOW circulating ink system which prevents the accumulation of air in the nozzles and ensures a permanent, clean print image without missing print due to blocked nozzles. The system's ink tank can be installed above, below, or at the same height as the print head without any problems. The new SEIKO printhead has a print height of 108 mm and achieves a remarkable speed of up to 150 meters per minute with a high resolution of 360 dpi.

Suited to Dual Colour Printing Applications such as Hazard Labelling, Dual Colour overprinting and Direct Printing Applications to corrugate, and web printing applications, the PP108 is the latest high end, economical Inkjet System using the latest Drop on Demand Printing Technology.

View Product

---