Nursery Labels
Weather Resistant labels need to be able to handle exposure to all types of weather conditions plus direct sunlight and constant watering. Our polytag material can stand up to the job plus you can print variable information on-site with our thermal label printers equipped with durable thermal ribbons. Our garden labels come in lots of shapes and sizes, and can be used for custom printing.  We can customize your labels with pre-printed logos and graphics.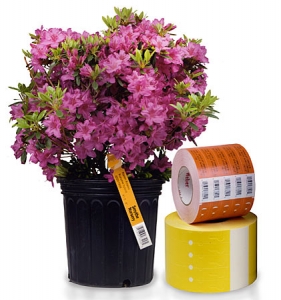 Nursery Label Tips

Materials:
Tags and labels suitable for outdoor use as plant stakes, lumber tags and nursery tags must be made of durable materials like our polytag facestock.

When printing variable information on a tag or label, such as bar codes, plant care instructions and pricing, be sure to use a weather-resistant ribbon for your thermal printer.

Artwork:
You can add a laminate or spot varnish to areas of your label to highlight specific features.
Booklet labels can add additional pages to your label that can contain additional plant care information and planting tips.

Add a QR Code or SnapTag to engage with your customers.
Adobe Reader is required to open and view PDF files. This can be downloaded free from adobe.com.
Available Documents
ECOMARK is the most competitive wax ribbon from Weber.
It makes no compromise between price and quality in order to match
standard wax labeling applications.

View Product

---

PLUSMARK is the high performance wax ribbon from Weber. It offers all
the benefits of a general purpose wax ribbon with an improved print durability
and a capability to print on synthetic label materials.

View Product

---

EASYMARK is the standard Weber wax ribbon which delivers consistent print
quality on any kind of paper label materials. It prints high density legible
barcodes and traceability data for short life labeling needs.

View Product

---

ULTRAPLATE is the standard resin ribbon from Weber. It is dedicated to
applications requiring a perfect printing quality and excellent mechanical
resistances. Its high versatility (it also prints on coated papers) and its
performances (sharpness, printing speed) have resulted in making
ULTRAPLATE a market reference.

View Product

---