Legi-Air 4050E Precision Labelling
E is a synonym for the word "ENHANCED". Based on a modular construction the LA 4050E is capable of numerous methods to print and apply a label. The design comprises a feeder module, a printing module, label winder and unwinder with numerous applicator types. The standard Tamp-Blow system has a quick-change system for changing the tamp pad which significantly reduces the changeover time to other label formats.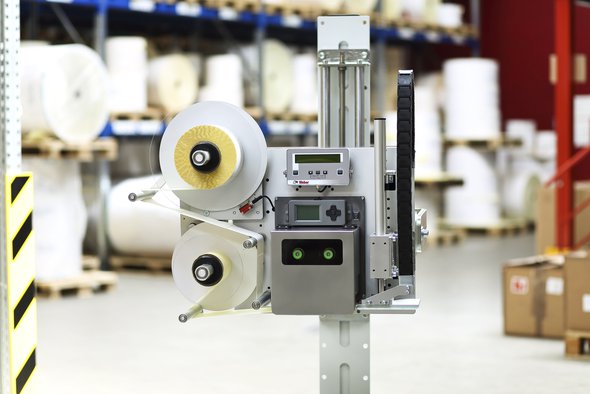 LA 4050E Modular for Cutomisation
The Legi-Air 4050E prints and feeds labels in lengths of 10 x 5 mm up to 180 x 300 mm with a feeder output of up to 210 labels per minute with the blow-box method. To optimise logistics in particular.
A two-stage vacuum for label transportation and feeding facilitates flexible adaptation to the labelling material and guarantees process reliability during labelling.  Thanks to electronic vacuum and pressure measurement in conjunction with Festo pneumatics, the Legi-Air 4050 E feeds labels with maximum precision and speed.
Swivel applicators are available which allow for label application in numerous locations . A removable display controller supports this flexibility and facilitates simple and quick operation by means of targeted plain text user information and stored system parameters. Flexible control or networking of systems guarantees conventional standards such as Ethernet, serial and parallel data connections as well as USB.
Print Engine Technology
Working closely with all major international print engine manufacturers Weber has designed the LA 4050E with flexibility and localization in mind. Whether Zebra, Sato, Avery, CAB or Datamax-O'Neil is the print engine of the choice, the LA 4050E can accommodate. Where no customer preference is indicated our fully trained, experience and certified Sales staff will recommend the best print engine and application method to suit your individual requirements.
The LA 4050E also can be equipped with an RFID print module that supports existing RFID standards.
Adobe Reader is required to open and view PDF files. This can be downloaded free from adobe.com.
Available Documents
LA4050E_uk
Enable Performance. Inspire Potential. Experience The Difference.

Today more than ever, the increasing demands of international commerce and its global supply chain are pressuring companies to deliver more — and to do it faster. From manufacturing to logistics to the end customer, success is driven by the ability to quickly move and track the products that drive your business.

Address it all with Zebra's FS40 Fixed Industrial Scanner designed to meet the comprehensive requirements of today's production and delivery processes. The FS40 easily keeps pace with the fastest moving operations, enabling track-and-trace through the automatic and flawless decode of information on every part and package as it moves through production, storage and fulfilment — capturing even the most challenging barcodes. The result? Best-in-class production, warehousing, distribution and logistics processes that inspire businesses to reach their highest potential.

View Product

---

The innovative Integra Ultimate thermal inkjet printer not only provides IP65 protection against dust and moisture, but it also closes and cleans the nozzle plate at each pause. This system ensures that the printing is always clean, with faultless results even after extended breaks. As a result, the ink cartridges' open times are multiplied many times. Two HP Class thermal inkjet ink cartridges can be used with the print head. As a result, the system produces beautiful prints with a maximum height of 25 mm.

View Product

---

Unleash the Power of Modern Touch Operating Technology and an Innovative Swipe User Interface. Say Goodbye to Complicated Print Jobs and Say Hello to Effortless Operation of X1JET and PP Class Printing Systems. With the Freedom to Position the 7" High-Resolution HMI Color Display Anywhere You Choose, Prepare to Be Awed by the Ultimate Printing Flexibility and Innovation. Upgrade to integra Vivid Today and Embrace a New Era of Printing Excellence.

View Product

---

EASYMARK is the standard Weber wax ribbon which delivers consistent print
quality on any kind of paper label materials. It prints high density legible
barcodes and traceability data for short life labeling needs.

View Product

---