Legi-Air 4050 TWIN
A new system for the classification, labelling and packaging of substances and mixtures was introduced throughout Europe on 20th January 2009, when the European GHS regulation (EC) No. 1272/2008, also referred to as CLP regulation, entered into force. The new EU directive also affects labelling requirements. New pictograms in the shape of a red diamond with a white background are replacing the orange ones in the EU.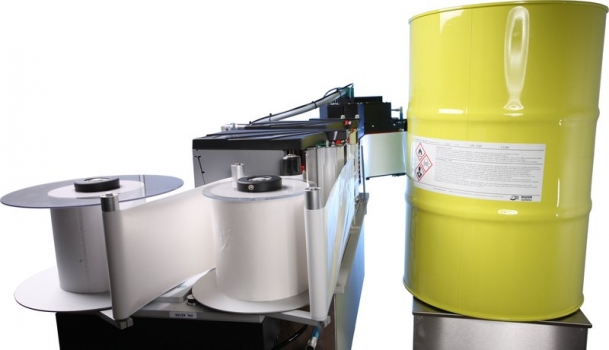 Labelling solution for GHS requirement
The Legi-Air Twin, with its two series-connected printing modules, is the answer to meeting the legal requirements. Apart from the hazard statements "H" and the precautionary statements "P", the 2-coloured warning symbols are also printed in the required quantities and dimensions. As well as product designations, quantity information, logos, and barcodes (1- or 2-dimensional) are printed clearly. Legi-Air Twin labels different sized pallets, folding boxes and especially barrels, in through-feed mode, with small and large label sizes, multi-coloured and at various customized positions on the containers.
In developing the Legi-Air Twin, reliable handling of large size labels received particular attention. It is based on the Legi-Air 4050, which is fitted with a special belt applicator adjacent to the second print unit. This is designed so that, with barrel labelling for instance, it automatically adjusts to match the height and diameter of different sized containers. This enables accurate, central labelling away from the seams.
Adobe Reader is required to open and view PDF files. This can be downloaded free from adobe.com.
Available Documents
The Geset 125 labelling system is used to label cylindrical products automatically. Depending on the type and dimension of the product, different label sizes are used. The products are fed manually or by a conveying system provided by the customer at an infeed passage of the labelling system. Care should be taken on accurate alignment of the products between the two freely mounted rollers of the roll conveyor. The side guide's position the products flush with the outside edge of the roll conveyor.

The roll conveyor feeds the products to the labeller. There the label is applied with the part running forward onto the product and it is pushed by rotation and the back pressure of the wrapping unit onto the product. The back pressure of the wrapping unit (the speed of the wrapping unit is twice as fast as the speed of the base conveyor) enables the product in rotation. The roll conveyor forwards the finished labelled products to the outfeed. Here the products are removed manually or by the customer's conveying system.

View Product

---

The Geset 111 labelling system is used to label square products on the top side automatically. Depending on the type and dimension of the product, different label sizes are used. The products are fed manually or by a conveying system provided by the customer at an infeed passage on the labelling system. Care should be taken on accurate alignment of the products. It is essential that the products are forwarded separately to the applicator with a gap between each other.

When the barrier is reached, an application trigger is tripped. The label applicator applies a label on the product in Wipe On procedure. The label on the top side is pushed on to the product by a brush or roller. After labelling, the products move on and can be removed from the conveyor by the customer.

View Product

---

The Geset 141 semi-automatic all-round labelling system is used for labelling small tins, bottles, jars etc. This solution was developed especially for companies requiring flexible labelling of small batches. Classical applications include the pharmaceutical and cosmetics industry and the food and beverage sector.

View Product

---

The Geset 117 labelling system is used to label square products on the top and bottom side automatically. Depending on the type and dimension of the product, different label sizes are used. The products are fed manually or by a conveying system provided by the customer at an infeed passage on the labelling system. Care should be taken on accurate alignment of the products. It is essential that the products are forwarded separately to the applicator with a gap between each other.

When the light barrier is reached, an application trigger is tripped. Both label applicators apply then in Wipe On procedure a label onto the product. The label on top side is pushed on the product by a brush or roller. The label on bottom side is pushed on the product by the self-weight of the product. After labelling the products move on and can be removed from conveyor by the customer.

View Product

---