iJet
The Markoprint iJET high-speed control system is small, compact and with many possibilities for interlinking. Special features: Unlike other coders, the entire control technology has now been incorporated in the print module for the first time. In this way, iJET creates novel highlights in terms of integration and flexibility.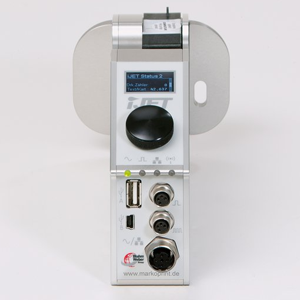 The control system with Hewlett-Packard printing technology prints up to 12.5 mm high on primary and secondary packaging – accurately and blindingly fast. Writing speeds of up to 300 meters per minute can be achieved, depending on print resolution.
iLogic – userfriendly interface
Another innovation: system control through "iLOGIC". This offers a very user friendly man / machine interface. Input is intuitive via a combination of high-resolution display and iLOGIC operator guidance. The selection of printable text and setting up system parameters is thus very simple – setting new standards. Upward extraction of the empty cartridge is just as simple, requiring a single hand movement, and the new one is inserted with one click.
The new Markoprint Integra Quadro/Quadro² print controller can control up to four inkjet printers or four print positions at the same time. This allows you to print on both sides of primary and secondary packaging on one or two separate production lines. There are also two separate printing methods that can be used in this process.

The Markoprint Integra Quadro/Quadro² can easily cope with limited space thanks to its slender design. Installation inside or directly at the industrial line is straightforward thanks to the different fixation options. It was designed specifically for installation in control panels and machinery.

View Product

---

The Markoprint Integra PP108 is the first inkjet printer with SEIKO printing technology and a circulating ink system. It features a POZIFLOW circulating ink system which prevents the accumulation of air in the nozzles and ensures a permanent, clean print image without missing print due to blocked nozzles. The system's ink tank can be installed above, below, or at the same height as the print head without any problems. The new SEIKO printhead has a print height of 108 mm and achieves a remarkable speed of up to 150 meters per minute with a high resolution of 360 dpi.

Suited to Dual Colour Printing Applications such as Hazard Labelling, Dual Colour overprinting and Direct Printing Applications to corrugate, and web printing applications, the PP108 is the latest high end, economical Inkjet System using the latest Drop on Demand Printing Technology.

View Product

---

EASYMARK is the standard Weber wax ribbon which delivers consistent print
quality on any kind of paper label materials. It prints high density legible
barcodes and traceability data for short life labeling needs.

View Product

---

ZEBRA ZT510 – NEXT-GENERATION PRINTING THAT IS BUDGET-FRIENDLY

Designed to strike the ideal balance between performance and value, the Zebra ZT510 includes the core features you need in an industrial printer at a cost-effective price point.

View Product

---