Healthcare
Mobility for healthcare Mobile solutions can be used for many things in a hospital. The most common solution we see is for warehousing. In most wards in a hospital there are small warehouses for band aids, needles, gloves and other consumable materials. To order new goods, inventory counting many hospitals use a warehouse solution from…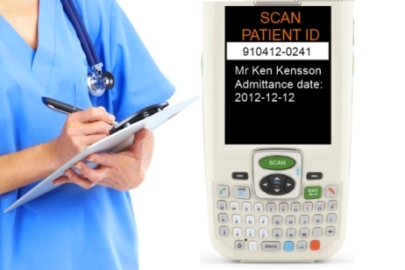 Mobility for healthcare
Mobile solutions can be used for many things in a hospital. The most common solution we see is for warehousing. In most wards in a hospital there are small warehouses for band aids, needles, gloves and other consumable materials. To order new goods, inventory counting many hospitals use a warehouse solution from Raptool.
User examples in healthcare  
Material supply closet
Other
– Track clothing with RFID
– Track tools in the disinfection process
– Track beds movement inside a hospital
– Track wheelchairs and crutches (Scan ID-Barcode)
Patient care
– Blood and sample tracking
– Patient scanning to match medicine
Adobe Reader is required to open and view PDF files. This can be downloaded free from adobe.com.
Available Documents
software-brochure
The innovative Integra Ultimate thermal inkjet printer not only provides IP65 protection against dust and moisture, but it also closes and cleans the nozzle plate at each pause. This system ensures that the printing is always clean, with faultless results even after extended breaks. As a result, the ink cartridges' open times are multiplied many times. Two HP Class thermal inkjet ink cartridges can be used with the print head. As a result, the system produces beautiful prints with a maximum height of 25 mm.

View Product

---

The Geset 117 labelling system is used to label square products on the top and bottom side automatically. Depending on the type and dimension of the product, different label sizes are used. The products are fed manually or by a conveying system provided by the customer at an infeed passage on the labelling system. Care should be taken on accurate alignment of the products. It is essential that the products are forwarded separately to the applicator with a gap between each other.

When the light barrier is reached, an application trigger is tripped. Both label applicators apply then in Wipe On procedure a label onto the product. The label on top side is pushed on the product by a brush or roller. The label on bottom side is pushed on the product by the self-weight of the product. After labelling the products move on and can be removed from conveyor by the customer.

View Product

---

PLUSMARK is the high performance wax ribbon from Weber. It offers all
the benefits of a general purpose wax ribbon with an improved print durability
and a capability to print on synthetic label materials.

View Product

---

Enable Performance. Inspire Potential. Experience The Difference.

Today more than ever, the increasing demands of international commerce and its global supply chain are pressuring companies to deliver more — and to do it faster. From manufacturing to logistics to the end customer, success is driven by the ability to quickly move and track the products that drive your business.

Address it all with Zebra's FS40 Fixed Industrial Scanner designed to meet the comprehensive requirements of today's production and delivery processes. The FS40 easily keeps pace with the fastest moving operations, enabling track-and-trace through the automatic and flawless decode of information on every part and package as it moves through production, storage and fulfilment — capturing even the most challenging barcodes. The result? Best-in-class production, warehousing, distribution and logistics processes that inspire businesses to reach their highest potential.

View Product

---