Field Force/T&L
Field Force Transport & Logistics
With a mobile solution from Weber your work force will spend less time writing reports and more time preforming the job they were hired for. In stead of paper they will use their mobile device to do all the reporting. Faster and with less mistakes.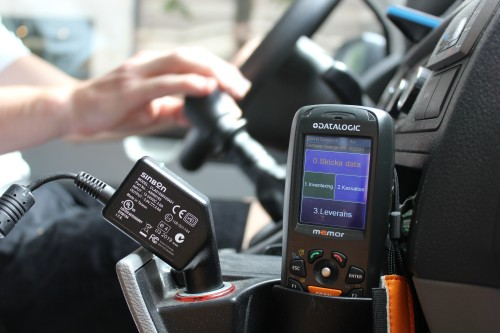 Case study: Smiling Faces
Smiling Faces services office coffee machines and "food at work" vending machines. Their service crew had a web-app in their iPhones for reporting. The app stopped working when they had no 3G coverage. To work faster and more accurately they needed to scan barcodes. The app they used did not have offline management or an easy way of integrating a barcode scanner.
Why not build another iPhone app you may ask? To be able to handle offline management and a Bluetooth scanner they would need to build an iPhone app from scratch. The software development would become very expensive. With the rapid design concept the app they needed could be built in just a few hours. They bought new mobile devices with built in barcode readers, Datalogic Memor.
Adobe Reader is required to open and view PDF files. This can be downloaded free from adobe.com.
Available Documents
software-brochure
DURAPRINT is a very versatile, multi-purpose wax-resin ribbon.
It provides a higher level of resistances compared to standard wax ribbons and
prints small characters and barcodes with a high level of quality.

View Product

---

The thermal inkjet printer IP-JET HP MK3 has been specifically designed for usage in dusty or damp situations. It is especially ideal for the food sector, as well as the plastics, pharmaceutical, and chemical industries, due to its IP65 protection level.

The IP-JET HP is a small inkjet printer with a printhead and control unit housed in one unit. Water and dust are kept out of the cartridge by sealing it and pressurizing it. The power supply features a waterproof connector, and the external connections' connectors are secured with an IP67 rating. The printhead does not need to be covered or removed for wet cleaning, unlike many other printers on the market.

View Product

---

ULTRAPLATE is the standard resin ribbon from Weber. It is dedicated to
applications requiring a perfect printing quality and excellent mechanical
resistances. Its high versatility (it also prints on coated papers) and its
performances (sharpness, printing speed) have resulted in making
ULTRAPLATE a market reference.

View Product

---

To enable continuous marking in ongoing production, our Markoprint NonStopPrinting printhead holds two alternately printing cartridges. Because the other ink cartridge is printing on the same position, each ink cartridge can be changed, cleaned, or serviced without pausing the machine.

An intelligent automatism prevents both cartridges from going empty at the same time. The first cartridge will always print two consecutive print jobs, taking turns with the second cartridge, which will only print one. This sophisticated automatism avoids both cartridges from running out at the same time. This will keep the ink from drying out in both cartridges. When the cartridge with the larger print volumes is empty, a warning will show, and the other cartridge will continue printing until it is replaced. The new cartridge will print the lower quantities to allow for you to replace the "older" cartridge. A sophisticated workflow that will boost your efficiency and productivity.

View Product

---