MP Compact4 Mark II (Datamax)
The Compact4 is a powerful response to desktop thermal printing requirements, and ideal for on-demand printing, especially where space is limited. The printer is ideal at the front desk of a hospital or in the box office of a movie theatre. Able to deliver continuous operation, the Compact4 is the printer of choice whenever ease of use, reliability and high performance are a must.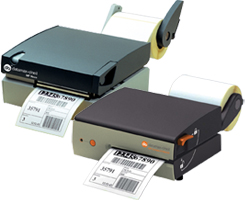 The Compact4 Mobile is designed for installation on forklift trucks and mobile stations. It can operate from a connection to a forklift's battery and its vibration proof design makes it the perfect choice for warehousing logistics.
Easy to use – Loading the Compact4 Mark II printers is unlike any other printer in the market. The levers are large and easy to manage — so easy that the operation can be done single handed while wearing a leather or latex glove. The paper path is slotted through the side of the printer with no covers to open or clam-shells to unlock. Reduce errors and increase efficiency – Printing directly from the forklift means you no longer have to move to a centralized printing station where the possibility of selecting and applying incorrect shipping labels greatly increases. Printing on demand and on location also improves fuel and time efficiency and by eliminating wasted travel to and from a centralized printing station.
[one_third last="no"]
Transportation and Logistics
• Cross Docking
• Sorting Centers
• Shipping labels
• Pallet tracking
Retail
• Item labels
• Shelf tags
• Specials and Talkers
• Return labeling
• Ticketing [/one_third]
[one_third last="yes"]
Pharmaceuticals
• Compliance labels
• Product identification
• Track and trace
• Pick lists
Manufacturing
• Asset tracking
• Work in progress
• Agency labels
• Instruction labels[/one_third]
Adobe Reader is required to open and view PDF files. This can be downloaded free from adobe.com.
Available Documents
MP_Compact4 MII
The Markoprint ZTV HP is a Central Ink Supply (CIS) system stores up to 400ml of ink for Markoprint HP Class inkjet printing systems such as the Markoprint integra One, Markoprint X2JET / X4JET, and Markoprint integra Quadro.

The large ink tank prevents frequent cartridge replacements from lowering your Overall Equipment Effectiveness (OEE). It can hold up to four single HP cartridges repaying you rapidly thanks to reduced ink prices. For non-interrupted production, the system can be paired with our NonStopPrinting printhead. Using an interface directly on the cartridge, current ink filling levels are monitored in real time. When the levels in the bulk tank fall below a certain threshold, a valve to the bulk tank opens and automatically refills it.

View Product

---

The Geset 111 labelling system is used to label square products on the top side automatically. Depending on the type and dimension of the product, different label sizes are used. The products are fed manually or by a conveying system provided by the customer at an infeed passage on the labelling system. Care should be taken on accurate alignment of the products. It is essential that the products are forwarded separately to the applicator with a gap between each other.

When the barrier is reached, an application trigger is tripped. The label applicator applies a label on the product in Wipe On procedure. The label on the top side is pushed on to the product by a brush or roller. After labelling, the products move on and can be removed from the conveyor by the customer.

View Product

---

Today more than ever, the increasing demands of international commerce and its global supply chain are pressuring companies to deliver more — and to do it faster. From manufacturing to logistics to the end customer, success is driven by the ability to quickly move and track the products that drive your business.

The FS70 Fixed Industrial Scanner is your configurable and customisable solution. Easily keep pace with your business, enabling quality control and track-and-trace of every part and package as it moves through production, storage and fulfilment. Whether you need a high-powered lens to read a very small barcode from a long distance, or a wide-angle lens to capture barcodes on extremely large parts, the FS70 addresses it all. C-mount external lenses allow you to achieve the working range and field of view your application and environment requires. And compatibility with virtually any external lighting solution ensures reading of the most challenging barcodes — even low-contrast direct part marks or those printed on curved or reflective surfaces. The result? Best-in-class production, warehousing, distribution and logistics processes that inspire your business to reach its highest potential.

View Product

---

Labeling systems are not always easy to integrate into preexisting production lines. The Markoprint Integra One can be easily integrated into production processes thanks to its compact dimensions of 186 x 86 x 98 mm. The printing system has a display for data entry as well as system settings modification and verification. This information can also be viewed from mobile devices if the WLAN version is selected.

Inkjet printers should be properly protected if they are subjected to harsh manufacturing circumstances. In addition, the Markoprint integra One ip has an IP 65 protection rating. As a result, it's ideal for use in the food industry.

View Product

---