Zebra ZXP Series 8 Retransfer Card Printer
With best-in-class, productivity boosting, full-throttle throughput, produce vivid color plastic cards on demand fast – thanks to Zebra's highly advanced ZXP Series 8 retransfer card printer and its patent-pending image-transfer process. Yet even at unparalleled print speeds, the printer achieves superior, photo-like image quality that boasts rich, consistent colours and strikingly sharp resolution.
The ZXP Series 8 printer includes ZMotif XML-based software for easy integration with enterprise applications. A modular design gives you the flexibility to add a variety of encoding options as needed.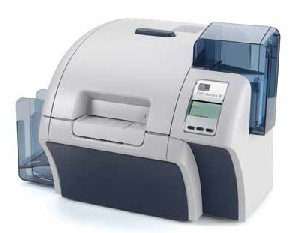 With fast speeds and a modular design, the printer is ideal for applications requiring a high-quality image, high security or printing on an uneven card.
Best-in-class throughput for printing, encoding and laminating – due in part to the patent-pending simultaneous two-sided retransfer process plus efficient landscape print mode – increases your operational efficiency without sacrificing quality.
Based on Zebra's image-processing technology, photo-quality colour and resolution are obtained to meet your quality and brand specifications
Designed inside and out to be reliable and durable, reducing repair costs and downtime.
Ideal for:
• ID and access-control cards
• Government-issued driver's licences
• National ID and voter registration cards
• Instant issuance of financial cards
• Personalised gift, membership and loyalty cards
• Smart cards in travel, gaming and entertainment
Adobe Reader is required to open and view PDF files. This can be downloaded free from adobe.com.
Available Documents
Thermal wipes can be used to not only clean the printhead but also give the rest of the printers internal and external surfaces a proper cleaning. They aredesigned to safely clean thermal print heads, guide paths, rollers and reader heads.

View Product

---

The thermal pen is used to swipe along the printhead in a forward and back motion to remove the most stubborn burnt on paper particles and adhesive residue.

View Product

---

Thermal cleaning cards remove the most stubborn burnt on paper particles and adhesive residue. They are designed to safely clean thermal print heads, guide paths, rollers and reader heads.

View Product

---

These types of cards can be used in a wide range of applications including public transport for fare payment, access control, cashless vending, parking, loyalty, electronic purse, gambling, road toll, student, employee IDs in government and corporate environments, e-passports and other secure travel documents, and cards for cashless payment.

View Product

---
[contact-form-7 404 "Not Found"]