U-45 Label Dispenser
The Dispensa-Matic U-45 is ideal for dispensing pressure-sensitive labels from 0.375″ up to 4.5″ wide. Labels are peeled from their liner and presented to the user for easy grab and go labelling.
This semi-automatic electric label dispensing system is built to last using high-quality metal parts for years of service with little downtime. The U-45 is made in the USA and comes with a 3-year warranty.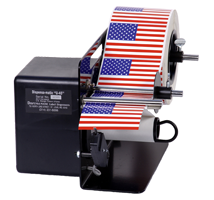 U-45 Label Dispenser
The Dispensa-Matic U-45 Label Dispenser is a heavy-duty, semi-automatic electric label dispenser for labels from 0.375″ to 4.5″ wide x 0.375″ to any length. This label dispenser advances at over 4″ per second.
The features include:
Butt-cut or die-cut label compatible
Multiple row compatible
Semi-automatic dispenser: pick, apply and repeat
Label boxes, envelopes, brochures, bottles, bags, cans – anything that needs a label
Side frames are made from the highest quality metals, then formed, countersunk, de burred and inspected
Dispensing tables are formed out of stainless.
The peel edge is hand shaped to spec to get the perfect peeling edge needed to dispense labels without tearing the backing paper
The U-45 motor is a shaded-pole AC motor
Dispensa-Matic U-45 uses Micro-Switch branded switches, which are specifically designed to detect all kinds of labels: paper, Mylar, foil, holographic and clear; photo cell available
Motor is compatible for Europe and all other 220V 50/60hz
Dimensions: 11″ x 11″ x 8″
Weight: 11 lbs
Adobe Reader is required to open and view PDF files. This can be downloaded free from adobe.com.
Available Documents
The Geset 117 labelling system is used to label square products on the top and bottom side automatically. Depending on the type and dimension of the product, different label sizes are used. The products are fed manually or by a conveying system provided by the customer at an infeed passage on the labelling system. Care should be taken on accurate alignment of the products. It is essential that the products are forwarded separately to the applicator with a gap between each other.

When the light barrier is reached, an application trigger is tripped. Both label applicators apply then in Wipe On procedure a label onto the product. The label on top side is pushed on the product by a brush or roller. The label on bottom side is pushed on the product by the self-weight of the product. After labelling the products move on and can be removed from conveyor by the customer.

View Product

---

The Geset 111 labelling system is used to label square products on the top side automatically. Depending on the type and dimension of the product, different label sizes are used. The products are fed manually or by a conveying system provided by the customer at an infeed passage on the labelling system. Care should be taken on accurate alignment of the products. It is essential that the products are forwarded separately to the applicator with a gap between each other.

When the barrier is reached, an application trigger is tripped. The label applicator applies a label on the product in Wipe On procedure. The label on the top side is pushed on to the product by a brush or roller. After labelling, the products move on and can be removed from the conveyor by the customer.

View Product

---

The Geset 112 labelling system is used to label square products on the bottom side automatically. Depending on the type and dimension of the product, different label sizes are used. The products are fed manually or by a conveying system provided by the customer at an infeed passage on the labelling system. Care should be taken on accurate alignment of the products. It is essential that the products are forwarded separately to the applicator with a gap between each other.

When the light barrier is reached, an application trigger is tripped. The label applicator applies then in Wipe On procedure a label onto the product. The label on bottom side is pushed on the product by the self-weight of the product. After labelling the products move on and can be removed from conveyor by the customer.

View Product

---

ZEBRA ZT510 – NEXT-GENERATION PRINTING THAT IS BUDGET-FRIENDLY

Designed to strike the ideal balance between performance and value, the Zebra ZT510 includes the core features you need in an industrial printer at a cost-effective price point.

View Product

---
[contact-form-7 404 "Not Found"]