SB1-HC Smart Badge
Improving Quality of Care and Patient Experience
In order to maintain efficient workflows that protect patient safety, healthcare staff need to scan and track medications and medical tasks to ensure every task is completed on time, every time. The SB1-HC, the first device of its kind, offers a compact, wearable, powerful, and convenient means to meet all these demands, for every healthcare staff member. Now, the entire staff is connected, and they are never more than the press of a button away when an urgent answer to a question is required.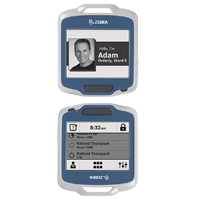 SB1-HC Key Features and Benefits
Small, lightweight and wearable
The compact, light SB1-HC is easily worn on a lanyard, belt clip, or armband, where it is available on demand to healthcare staff in an instant.
Built for constant disinfecting
Special plastics and IP54 sealing enable regular disinfecting wipe downs required to prevent the spread of germs between patients and caregivers.
Enterprise-class push-to-talk
At the press of a button, an SB1-HC user can talk to other staff who are carrying virtually any mobile device — an SB1-HC, a Zebra mobile computer (such as the MC40), a two-way radio or popular third party smartphones.1
Full shift power
The SB1-HC provides the peace of mind that comes with knowing workers will always have more than ample power for a full shift. The low-power E Ink® display provides over 14 hours of battery life from a single charge. And in badge mode, the screen can display a healthcare worker's picture and name whenever the device is not in use — yet draw virtually no power at all.
Easy 'touch' navigation
Finger-style navigation eliminates the need for a stylus and supports a gloved hand.
Easily connect to wireless networks
With Zebra's Wi-Fi 802.11b/g/n radio, healthcare staff members get a secure and solid wireless connection to any WLAN — so voice and data features are simply always available.
Adobe Reader is required to open and view PDF files. This can be downloaded free from adobe.com.
Available Documents
sb1-hc Spec Sheet
ZEBRA ZT510 – NEXT-GENERATION PRINTING THAT IS BUDGET-FRIENDLY

Designed to strike the ideal balance between performance and value, the Zebra ZT510 includes the core features you need in an industrial printer at a cost-effective price point.

View Product

---

ZT400 printers feature USB, Serial, Ethernet and Bluetooth® connectivity along with expanded RFID capabilities. Plus, with Zebra's Link-OS® environment, an innovative operating system, your customer can easily integrate, manage and maintain these printers from anywhere in the world.

View Product

---

ZEBRA ZT600 SERIES – INDUSTRIAL BRAWN FOR EVERY CHALLENGE

Advancing the legacy of the industry-leading Xi Series, the Zebra ZT600 Series printers combine rugged durability and exceptional performance on a user-friendly, future-ready platform.

To keep your critical operations running smoothly, you need high-performance industrial printing systems that can stand the test of time, both physically and technologically. Zebra's ZT610 and ZT620 advance the legacy of their industry leading Xi Series predecessors, offering next-generation operational visibility, control and adaptability to meet your evolving needs—all with the rugged durability and 24/7 reliability you expect from Zebra.

View Product

---

The Alpha HSM (High Speed Modular) is our new modular design that is based on various components that can be combined into the right system to meet your requirements.

View Product

---
[contact-form-7 404 "Not Found"]