Zebra QLn Series Mobile Printers
Zebra's popular QL  family of direct-thermal mobile label printers has built a highly satisfied following based upon its proven dropresistant
durability; user-friendly, productivity-boosting features; and easy integration. As Zebra's third generation of QL printers, the QLn series extends these QL-platform benefits – whether you choose the QLn320 model for 72mm-wide printing or the QLn220 model for print widths up to 48mm.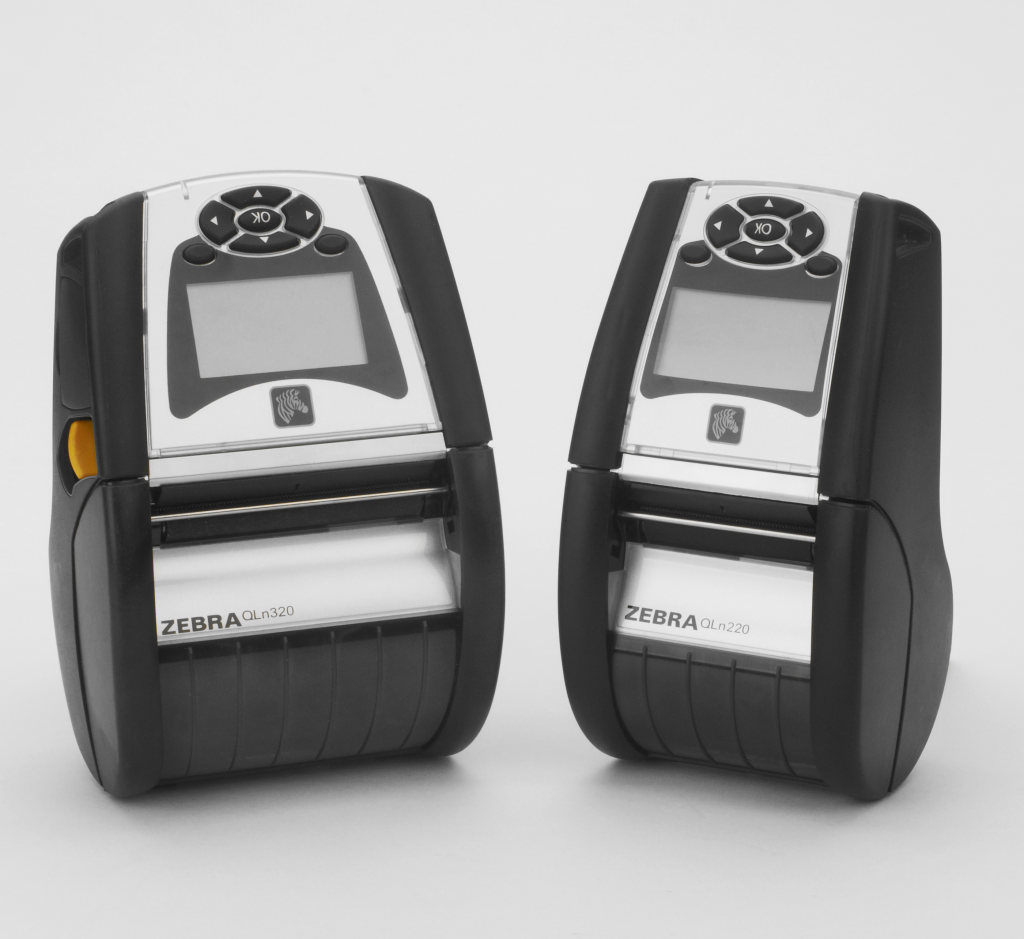 A seamless, one-piece design and tempered-glass display join the printer's rubber-infused over-moulding to make this lightweight printer even more durable. The QLn printer can boost your operation's productivity through a larger, sharper, easier-to-navigate display; faster, higher-quality printing; a variety of proactive alerts that help keep working printers in employees' hands; and many convenient charging accessories.
And your IT department will find the QLn printer easier to integrate into existing environments with features such as Zebra Global Printing, improved network performance – including 802.11n wireless LAN capability for more robust and reliable connectivity and throughput – and ZebraLink support.
Ideal for these applications:
Retail: shelf-edge labels, mark-down labels, price labels and tags, sell-by labels, transfer and return labels
Healthcare: bedside specimen labels, pharmacy labels
Transportation & Logistics: shipping/receiving labels, pallet/case labels, cross-docking labels, warehouse management labels
ZEBRA ZT510 – NEXT-GENERATION PRINTING THAT IS BUDGET-FRIENDLY

Designed to strike the ideal balance between performance and value, the Zebra ZT510 includes the core features you need in an industrial printer at a cost-effective price point.

View Product

---

ZT400 printers feature USB, Serial, Ethernet and Bluetooth® connectivity along with expanded RFID capabilities. Plus, with Zebra's Link-OS® environment, an innovative operating system, your customer can easily integrate, manage and maintain these printers from anywhere in the world.

View Product

---

ZEBRA ZT600 SERIES – INDUSTRIAL BRAWN FOR EVERY CHALLENGE

Advancing the legacy of the industry-leading Xi Series, the Zebra ZT600 Series printers combine rugged durability and exceptional performance on a user-friendly, future-ready platform.

To keep your critical operations running smoothly, you need high-performance industrial printing systems that can stand the test of time, both physically and technologically. Zebra's ZT610 and ZT620 advance the legacy of their industry leading Xi Series predecessors, offering next-generation operational visibility, control and adaptability to meet your evolving needs—all with the rugged durability and 24/7 reliability you expect from Zebra.

View Product

---

Portable, Handy, Smart. The TH2 direct thermal 2″ standalone printer is truly revolutionary.

View Product

---
[contact-form-7 404 "Not Found"]