Zebra iMZ Series
Get the benefits and value associated with using today's smartphone and tablet devices. The new iMZ™ printers now support Bluetooth® connectivity to Apple® iOS, as well as Android™, WinMobile and BlackBerry® platforms. Print Touch™ simplifies Bluetooth pairing and launches Web-based help pages with Near Field Communication (NFC)-enabled devices to provide a trouble-free user experience.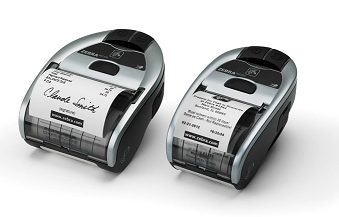 Zebra's new iMZ220 and iMZ320 printers are there to support your 48mm and 74mm receipt-printing business needs. The iMZ printers support the most popular operating systems of today's smartphones and tablets. The printers also use Zebra's Link-OS™ environment: an open platform that pairs an operating system for smart Zebra devices with powerful software apps. Using Profile
Manager with AirWatch® Connector, you can quickly connect your printer with the AirWatch device-management system via WLAN. Use your current infrastructure with one tool for management of your mobile devices.
Building on this experience, you can create printing applications for the Apple, Windows®, Android, WinCE, WinMobile and BlackBerry platforms with the Link-OS Software Development Kit (SDK). Backed by a full range of Zebra software, it has never been easier to produce crisp, clear receipts – whatever the setting.
Ideal for:
• Retail ––Mobile point of sale, restaurant tableside receipts, Queue-busting
• Mobile workforce –– Utility billing/meter-reading, field repair/installations, parking violations
• Transport & Logistics –– Onboard transportation, ticketing, proof of delivery, delivery-failure
ZEBRA ZT510 – NEXT-GENERATION PRINTING THAT IS BUDGET-FRIENDLY

Designed to strike the ideal balance between performance and value, the Zebra ZT510 includes the core features you need in an industrial printer at a cost-effective price point.

View Product

---

ZT400 printers feature USB, Serial, Ethernet and Bluetooth® connectivity along with expanded RFID capabilities. Plus, with Zebra's Link-OS® environment, an innovative operating system, your customer can easily integrate, manage and maintain these printers from anywhere in the world.

View Product

---

ZEBRA ZT600 SERIES – INDUSTRIAL BRAWN FOR EVERY CHALLENGE

Advancing the legacy of the industry-leading Xi Series, the Zebra ZT600 Series printers combine rugged durability and exceptional performance on a user-friendly, future-ready platform.

To keep your critical operations running smoothly, you need high-performance industrial printing systems that can stand the test of time, both physically and technologically. Zebra's ZT610 and ZT620 advance the legacy of their industry leading Xi Series predecessors, offering next-generation operational visibility, control and adaptability to meet your evolving needs—all with the rugged durability and 24/7 reliability you expect from Zebra.

View Product

---

Portable, Handy, Smart. The TH2 direct thermal 2″ standalone printer is truly revolutionary.

View Product

---
[contact-form-7 404 "Not Found"]